CORNISH FOOD
Some Favourite Recipes of the Cornish Association of NSW
---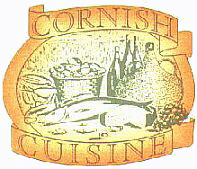 RECIPES
Cornish Ginger Fairings
(Originally made as a special fair day treat in Cornwall)
Ingredients: 2 cups S.R. flour, 1 cup sugar, 3 tablespoons golden syrup, 125g margarine, 1 level teaspoon bi-carb, 3 heaped teaspoons ginger, 1 egg. Instructions: Melt syrup & margarine. Sift together flour, sugar, bi-carb & ginger. Beat egg & add to slightly cooled syrup mixture. Stir in the dry sifted ingredients. Roll into small balls, flatten top, place on greased trays. Bake 10-15 mins at 180 C or 350 F. Can make up to 60 depending on size of ball.
Cornish Pasties
(Made to feed the tin & copper miners their crowst or lunch.)
Ingredients: 1lb plain flour, pinch salt, 5 ozs Margarine/Butter, 5 ozs Lard, cold water, raw finely diced steak (chuck or similar), sliced Swede turnip, diced Onion or Leek, sliced Potato, seasoning to taste. Egg. Parsley. Instructions: Rub Lard into the flour and salt to resemble fine breadcrumbs, mix to a dough with enough cold water. Roll into a rectangle and dot the top 2/3 pastry with marg., fold up bottom 1/3 and top 1/3 down. Turn pastry so that the open end is nearest to you and repeat the process until all Lard is used. Chill pastry in refrigerator for 1 hour. This should be enough pastry to make 1 dozen small pasties. Roll pastry out into 12 circles using a small plate to size. Place a small amount of raw sliced Potato in the centre of the pastry. Add a small amount of raw diced steak, sliced Swede, diced onion, also on pastry. Season to taste, add some chopped parsley and a nob of Marg. Seal edges by crimping securely, brush top with beaten egg, make a small slit in the top and bake at 450 F for 15 mins, in the top of a pre-heated oven. Lower oven to 325 F and put on lower shelf. Cook for a further 25-30 mins.
Congress Tarts
Make raw short pastry cases in patty tins. Put a spoonful of jam in each case, and cover with the following mixture: 4 oz ground almonds, capful of almond essence, 2 oz margarine, 2 tablespoons of castor sugar, 1 egg. Mix all together, spread over jam, making sure mixture reaches the edge of the pastry cases. Decorate with strips of pastry if desired. Bake 10-15 mins at 370*F or 190*C or until lightly browned.
Everyday Saffron Cake
Recipe (pre-metric so please convert)
3lb plain flour, 1lb Lard & Margarine (mixed), 6oz sugar, 1 1/2 lb dried fruit, 4-6oz candied mixed peel, 1 teaspoon salt, 1 dram good saffron, 1oz yeast, warm milk and water to mix.

1. Cut Saffron into small pieces with scissors
2. Place in basin and cover with boiling water
3. Leave overnight to steep
4. Rub Lard/Marg into flour and salt.
5. Add sugar and fruit
6. Cream yeast with a little sugar. Thin with tepid water, and scatter a little flour on top. Leave in warm place until frothy.
7. Using hand, mix saffron, yeast, and enough tepid milk & water with dry ingredients to make soft dough. Knead well.
8. Cover with greased paper and a clean cloth and leave in a warm place until doubled in size.
9. Turn onto floured board and knead till the fruit starts popping out.
10. Shape into cakes, loaves, or buns. Then put into well greased tin/s. Buns are usually put on a greased baking sheet.
11. Put into a warm place to 'plum up'.
12. Bake -
Buns: 440 F 15-20 mins
Cakes: 425 F 15 mins then 30 mins at 400 F.
Cakes or loaves need 40-50 mins at these temps but should sound hollow if tapped on base, though the crust will be soft.

We get our Saffron from Cornwall; though it is grown in Tasmania and a few other places in Australia, and other real saffron from reputable sources can be bought in some shops - look around.
Hogs Pudding - Modified Cornish
Ingredients:

Fresh pork - 50/50 lean and fat - 1kg
Bread crumbs - 1/2 cup
Thyme - 1 teaspoon
Salt - 1 teaspoon
Pepper - 1 teaspoon
'Glad Bake' 30cm - cut into 20cm lenghts
A stapler and staples

Mince the pork - medium grade
Add ingredients
Thoroughly mix together
Take about 250gm of mixture, and roll it into about 2cm thick
Place Glab Bake over and roll around it as a wrap. Fold over ends and staple
Repeat process with rest of mixture
Bring water to a boil in large saucepan, and drop in hogs puddings.
Bring back to boil and simmer for 45mins
The hogs pudding may be sliced across and eaten cold, or some prefer to fry the slices, and some eat them while hot.

Hevva or Heavy Cake

Ingredients:
1 lb plain flour, 1/4 lb butter, 1/4 lb lard, 1/4 pint milk, 12 ozs mixed fruit, 6 ozs sugar, 1/2 teaspoon salt, 1 egg - beaten

Rub lard into flour, add salt, sugar and fruit - mix to dough with milk.
Roll into rectangle, spread with 1/2 butter, fold into 3, turn and repeat once more.
Fold into 3 once more - score top, brush with beaten egg.

Bake for 30 mins at 400F.

Cornish Splits (for cream tea)

Ingredients:
2 oz Lard
1 lb white flour< br> 1 tsp salt
1 oz yeast
1 tsp caster sugar
1/2 pint milk

Warm the milk. Cream together the sugar and the yeast, and mix with the milk. Sieve the flour and salt together, rub in the Lard, and add to the liquid mixture to form a soft dough. Knead thoroughly and leave in a warm place to rise.
Knead again and shape into round buns. Lightly flour a baking tray, put the buns on the tray, and leave to rise for another hour. Bake for about 15 minutes at 400F.

Serve the splits cold with clotted cream and jam for a proper Cornish Cream Tea, or hot and buttered, or anyway you wish really.

---
Conversions at: Cookery conversions

NB: Healthier ingredients may be used in substitute to Lard, but consult sources for alternatives and practice until perfect.

===================================================oooOOOooo=========================================================

From recipes by ladies and gents of the Cornish Association of NSW; mainly from c. 1983 for the Cultural Display at Carnivale '83 in the Domain, Sydney [Updated 22/9/13]

===================================================oooOOOooo=========================================================